SICKNESSES!!!!!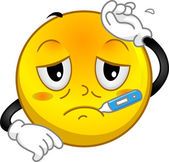 ---
FLU and STREP SEASON
If you suspect your child may have the flu, or strep throat keep them home and call your family physician.
What is the flu?
Influenza A or B (also known as the flu) is a contagious respiratory illness caused by flu viruses. It can cause mild to severe illness, and at times can lead to death. The flu is different from a cold. The flu usually comes on suddenly. The difference between a common cold and the flu are listed below.
What is Strep Throat?
Strep throat is a bacterial infection in the throat and the tonsils. The throat gets irritated and inflamed, causing a sudden, severe sore throat. Symptoms of Strep Throat are as follows:
No fever at all or a fever that may begin suddenly and is often the highest on the second day,

Chills

Red, sore throat that may have white patches

Pain when swallowing

Swollen, tender neck glands
Policy for returning to school:
FEVER: Keep your child home until his or her FEVER has been gone WITHOUT medicine for 24 hrs. Colds can be contagious for at least 48 hours. Returning to school too soon may slow recovery and make others sick.
IF your child has been sent home with a fever, they cannot return the next day!
VOMITING OR DIARRHEA: Keep your child home for 24 hours after the LAST time he or she vomited or had diarrhea.
ANTIBIOTICS: Keep your child home until 24 hours after the FIRST dose of antibiotics for anything like ear infection or strep throat.
We often have many children and adults with colds coming to school, and each one is passing their sickness to others.
Please
help others from becoming sick by keeping your child home while the sickest.